Top Gun Let There Be Rock MH - "Rock"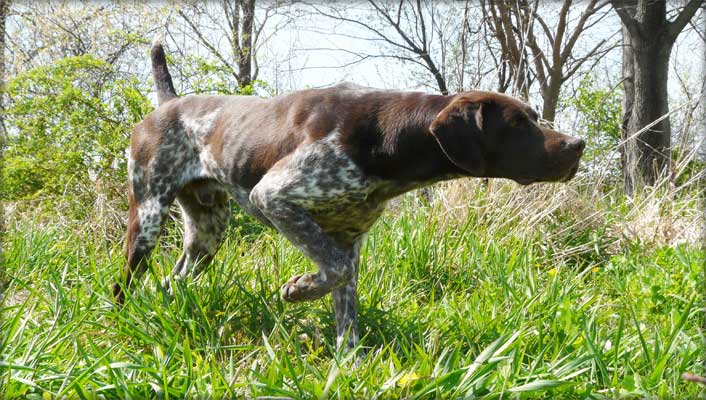 BORN 4/26/2009
OFA: GSP-14926G24M-NOPI (GOOD)
CERF: GSP-2294N/2010-14 (NORMAL)
Reference Sire
View Pedigree
Rock blends a perfect balance of natural ability, desire, and cooperation. These qualities all proved true when he finished his AKC Master Hunter title at just 17 months of age.
Rock is a true gentleman in the kennel, in the home, and in the field. His solid 55 lb build and pure athleticism allow him to hunt hard all day. He is easy to handle and his thoroughness in the field fills the game bag on every outing.
This special breeding piece offers some of the most proven genetics available today. Notable dogs in Rock's pedigree include GSPCA Hunt Test Sire of the Year winners Jaegerhof's Sir Henry Higgins MH (2008) and VC Jacob vd Westwind MH, UT Prize 1 (2002), GSPCA Hunt Test Dam of the Year Top Gun Higgins' Lil Princess DI MH (2010), DC AFC Stradivarius Baroque, and DC Hillhaven's Hustler.
Mark an improvement in your GSP offspring with Rock and he will contribute to the improvement of the German Shorthair breed.