Top Gun Secret Agent MH - "Bond"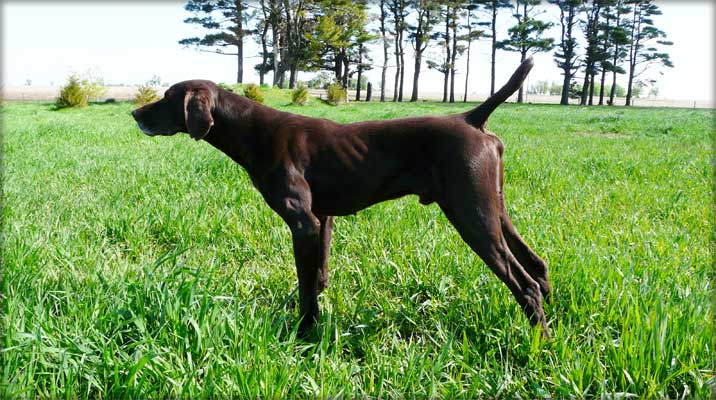 2010 AKC Hunt Test Sire of The Year
8/18/2003-12/7/2011
OFA – Good
Reference Sire
View Pedigree
It was a very sad day when Bond passed away. He was truly the nicest German Shorthair we have had the pleasure to own. Never once did you ever question Bond's ability in the field or his gentleman like attitude in the kennel. Bond had so many positive traits that were passed on to his offspring. He will really be missed in the kennel and the field.
Throw away your e-collars and learn to appreciate what having a strong desire to please really means! Bond sired numerous offspring with real talent in natural ability, train-ability and bid-ability with style to burn. Looking for a family/hunting companion that has the ability to find wild birds yet wants to please his master? Bond brought so many great traits to our breeding line and we are seeing big things in his offspring! We made the right choice in using his sire on our foundation line to make breed progress! Bond's littermates and offspring continue to make believers of many trainers, breeders and judges across North America!